October 17, 2017
From the University of Idaho website. Keegan Lawler is a bookseller at BookPeople of Moscow in Moscow, ID. 
CLASS Creative Writing student creates resource guide to help others access queer literature
There weren't many literary resources for Keegan Lawler to turn to as a queer teen growing up in rural northern Idaho.
Interested in the theatrical and literary works of Tennessee Williams and Walt Whitman, but unaware of the research into their pasts as part of the LGBTQIA+ sexual and gender identity community, Lawler was at a loss as he looked for inspiration in the tiny town of Twin Lakes.
He sought out access to anthologies of writings by LGBTQIA+ authors, but came up short at his local library. Even online, he struggled to find historical compilations to study.
"I grew up in a real rural area with a small population, so I didn't have access to LBGT media," he said. "I realized my only access to that world was from popular media."
As he began investigating his own identity, Lawler only had access to titles like Williams' complicated family drama "Cat on a Hot Tin Roof" and the work of beat poet Allen Ginsberg.  He wanted to know how other authors discussed sexuality and gender, and how their feelings were accepted over time.
Now a senior creative writing major in the University of Idaho College of Letters, Arts and Social Sciences, Lawler, 21, hopes to connect today's teens who might be questioning their sexual orientation or gender identity with historical works from literary masters across generations.
"A lot of these things became available to me as I came to college," he said. Teens looking for a literary reference about sexual orientation might not gravitate toward their local resources, anyway. "A lot of people are intimidated by pulling a book off the shelf, so I'd like to make it available online."
The name "American Queer: A Digital Library of LGBTQIA+ Literature" tries to make that information accessible for others, no matter their locale.
The website is broken into sections labeled "Silent," "Hidden" and "Proud" as Lawler collects works from as far back as the author known as Publick Universal Friend in 1736 and Michael Wigglesworth's "Day of Doom" in 1662. The works are taken from individual writings, and narrowed down from the literature icons in the reference book titled the "Encyclopedia of LGBT History in America."
Queer writers faced persecution and discrimination through much of history, which is why Lawler believes some of their works about sexuality were more subtle.
"You have to look at the evidence surrounding that, both in what they write, and time," Lawler said.
The "Proud" section highlights openly gay and lesbian authors like Williams, Ginsberg and feminist poet Audre Lorde. Each page contains a short biography and selected writings that are meant as an introductory platform and a springboard for additional research.
"I was trying to think how would I have responded at age 14 or 15 or whatever," he said.
Lawler opted to move forward with the project over the summer. He worked with Karen Thompson, director of the professional writing program in the Department of English, on a proposal for the resource guide.
Thompson said Lawler has always been interested in finding writers who identified as LGBTQIA+, or who talked about those issues. Seeing the finished project, Thompson said she was blown away about the quality of Lawler's work on the resource guide.
"He did a stellar job, and the library also really helped him with it," she said. "He's just one of those special students."
Faculty from the UI Library worked with Lawler on how to best create a website for his resource guide, and helped him locate information. In addition to working at Bookpeople of Moscow, he spent his summer cataloging and typing letters, poems and other writings that aren't available elsewhere online.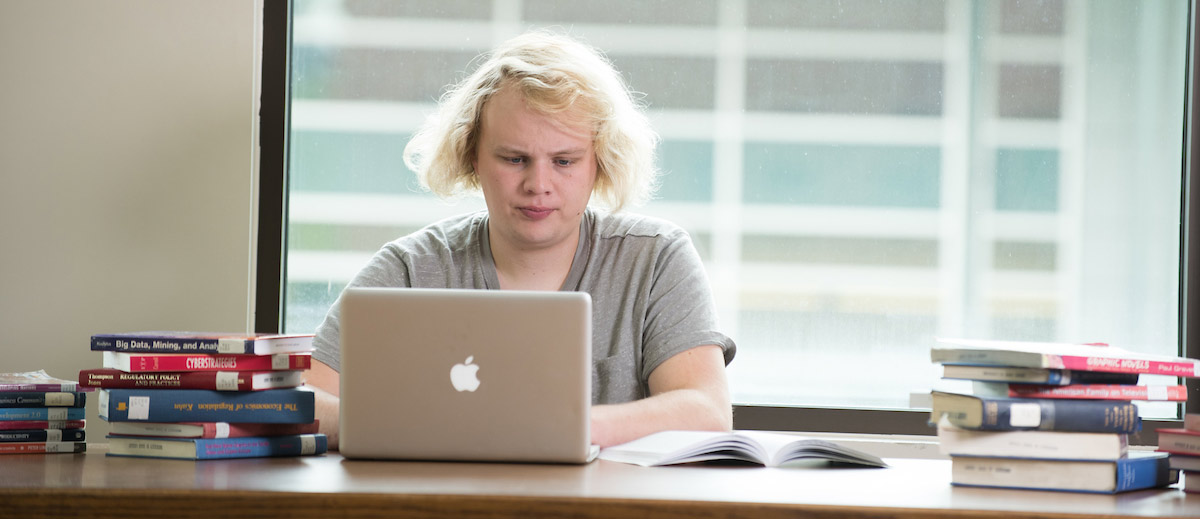 Selecting authors and their works sometimes took him on smaller-scale research projects, Lawler said. Walt Whitman and Emily Dickinson never identified with queer labels, but Lawler said they showed homosexual tendencies in some of their private and public writings.
Queer people have existed throughout history, and Lawler wants to make sure others know that.
He takes letters from former first lady Eleanor Roosevelt, whom Lawler describes as someone whose writings portray her as an early example of bisexuality, as well as lesser-known poems by Whitman. Those works are combined in the guide with the works of other authors so the writings will be easy to find for other young adults as they search out literary material online.
Much of the resource guide's writings have been consolidated from research by other scholars, Lawler said.
The collection includes writings from about a dozen authors, though Lawler would like to triple that. He's also seeking funding to pay for his website and buy copies of some of the books he's referencing. Lawler hopes to expand on his work and is applying to Master of Fine Arts programs.
Denise Bennett in the School of Journalism and Mass Media is working with Lawler to get additional funding so he can expand the works already cited, secure a domain name and increase the number of authors listed.
"When I drive home to Twin Lakes, I see little communities like Tensed that don't have access to these types of things," he said. "It's an internet website – available."
Article by Brad Gary, University Communications and Marketing at University of Idaho.
— posted by Tegan Tigani