December 20, 2022
From Portland's Annie Bloom's Books: Books from Local Authors
Want another way to shop local this holiday season? Pick up one (or more!) of these wonderful 2022 books from Portland authors.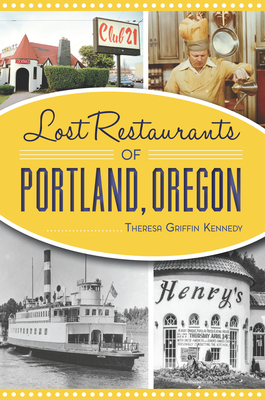 by Theresa Griffin Kennedy
A full menu of unforgettable events and historical milestones. Delve into the Rose City's colorful and sometimes tumultuous past through the memories, meals and recipes that put these bygone restaurants on the map. From The Quality Pie, a favorite of Portlanders from all walks of life, to the River Queen, which enjoyed a long and storied life as a working vessel before becoming a stationary restaurant on the Willamette River, visitors and locals alike have enjoyed a unique variety of eateries. Celebrities once enjoyed steak dinners in the Barbary Coast's Roaring 20's Room while Café Lena offered simpler fare to poets and dreamers in search of a relaxed atmosphere. Join author Theresa Griffin Kennedy for a sumptuous tour of Portland's shuttered cafés, diners, and grand dining rooms.
Order Your Copy of Lost Restaurants of Portland, Oregon
The Story of the Hundred Promises (Paperback) by Neil Cochrane
A queer, deconstructed version of the "Beauty and the Beast" fairy tale. Trans sailor Darragh Thorn has made a comfortable life for himself among people who love and accept him. Ten years after his exile from home, though, his sister asks him to reconcile with their ailing father. Determined to resolve his feelings rather than just survive them, Darragh sets off on a quest to find the one person who can heal a half-dead man: the mysterious enchanter who once gave him the magic he needed to become his true self. But so far as anyone knows, no one but Darragh has seen the enchanter for a century, and the fairy tales that survive about em give more cause for fear than hope. In lush and evocative prose, and populated with magical trees and a wise fox, The Story of the Hundred Promises is a big-hearted fantasy suffused with queer optimism.
Order Your Copy of The Story of the Hundred Promises (Paperback)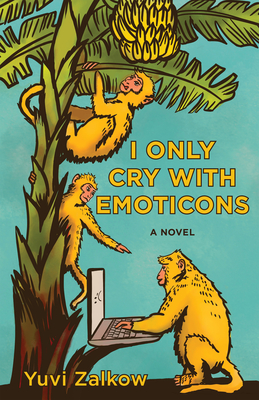 Signed and personalized copies available!
The Rumpus Book Club Pick and BuzzFeed Best Books of the Summer! Saul doesn't get why he's misunderstood. At his high-tech day job, he hides in the bathroom writing a novel about his dead grandfather and wonders why his boss wants to fire him. He tells his almost ex-wife about a blind date and wonders why she slams the door in his face. He aches with worry for his seven-year-old son, who seems happier living with his mom and her new man. When the blind date becomes a complicated relationship, and Saul's blunders at work threaten the survival of the company, Saul has to wake up and confront his fears. I Only Cry with Emoticons is a quirky comedy that reveals the cost of being disconnected––even when we're using a dozen apps on our devices to communicate–and an awkward man's search for real connections, on and offline.
Order Your Copy of I Only Cry with Emoticons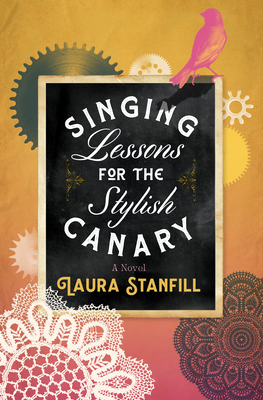 Singing Lessons for the Stylish Canary (Paperback) by Laura Stanfill
Signed and personalized copies available!
As a firstborn son of a master craftsman, Henri Blanchard is expected to inherit the family barrel organ workshop, but he would prefer to make bobbin lace like his best friend Aim e. In an effort to put his misgivings aside and prove himself a worthy heir, he attempts dramatic feats that draw derision from the townsfolk and finally land him in jail, accused of murder. Threatened with the hangman's noose, he is forced to flee the cozy village of Mireville–and discover a world beyond that may be big enough for even the rarest bird to find a nest.
Order Your Copy of Singing Lessons for the Stylish Canary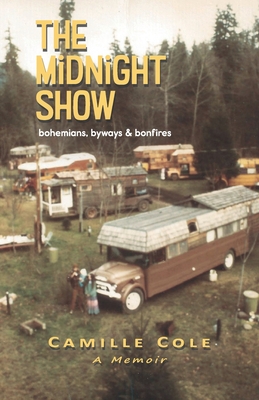 The Midnight Show: Bohemians, Byways & Bonfires by Camille Cole
Signed and personalized copies available!
During the early days of Oregon's famous Country Fair, the Midnight Show was more than a magical conduit for pranksters and sparkles and fandangle; tofu and patchouli and drum circles; sword swallowers, fire-eaters, and magicians; or even a wedding venue. It was a stage shared by icons of the counterculture, lovers, children and family, and those of us finding our way through. From exploring her roots in Upstate New York to finding her people among a community of young mavericks who gather in fields building their traveling village, free-spirit Camille Cole takes us along for the ride on her life-altering journey across America's heartland-where prairie dust and hemlock and mossy woodland give way to wild iris and forests of fir and the wild free days of the bohemian renaissance happening on the West Coast.
Order Your Copy of The Midnight Show: Bohemians, Byways & Bonfires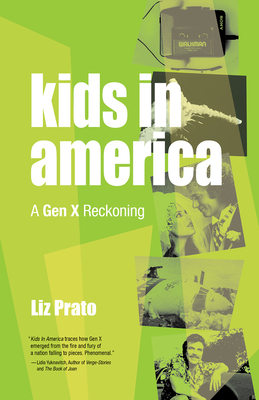 Kids in America: A Gen X Reckoning Liz Prato
Signed and personalized copies available!
Generation X was born between the legions of Baby Boomers and Millennials, and was all but written off as cynical, sarcastic slackers. Yet, Gen X's impact on culture and society is undeniable. In her revealing and provocative essay collection, Kids in America: Essays on Gen X, Liz Prato reveals a generation deeply affected by terrorism, racial inequality, rape culture, and mental illness in an era when none of these issues were openly discussed. Examined through the lens of her high school and family, Prato reveals a small, forgotten cohort shaped as much by "Sixteen Candles" and "Beverly Hills, 90210," as it was by the Rodney King riots and the threat of nuclear annihilation. Prato is unflinching in asking hard questions of her peers about what behavior was then acceptable or overlooked, and how we reconcile those sins today. Kids in America illuminates a generation that is often cited, but rarely examined beyond the gloss of nostalgia.
Order Your Copy of Kids in America: A Gen X Reckoning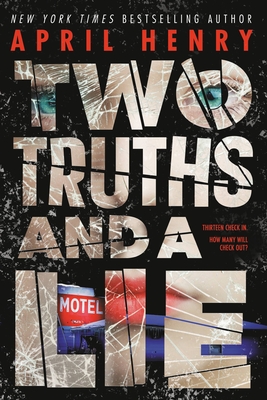 Two Truths and a Lie by April Henry
Signed and personalized copies available!
A group of teens are trapped in an old motel with a murderer in this chilling YA mystery. Nell has always wanted to be an actor, but doubts her ability. As a member of her school's theater program, she prefers working backstage. On the way to a contest, an unexpected blizzard strands her acting troupe in a creepy motel. Soon they meet a group of strangers from another high school—including the mysterious and handsome Knox, who insists they play the game Two Truths and a Lie. When it's Nell's turn, she draws a slip of paper inked in unfamiliar handwriting: I like to watch people die. I've lost count of how many people I've killed. Suddenly, a night of harmless fun turns into a matter of life and death. As guests go missing, it becomes clear that a murderer is hiding in their midst ready to strike again. In a room full of liars and performers, the truth is never quite what it seems. Nell is going to have to act like her life depends on it—because it does.
Order Your Copy of Two Truths and a Lie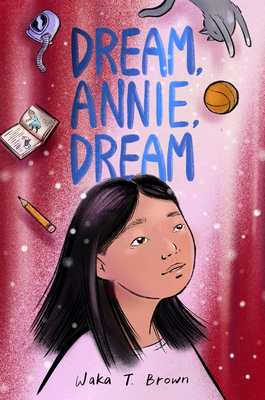 Dream, Annie, Dream by Waka T. Brown
Signed and personalized copies available!
In this empowering deconstruction of the so-called American Dream, a twelve-year-old Japanese American girl grapples with, and ultimately rises above, the racism and trials of middle school she experiences while chasing her dreams. As the daughter of immigrants who came to America for a better life, Annie Inoue was raised to dream big. And at the start of seventh grade, she's channeling that irrepressible hope into becoming the lead in her school play. So when Annie lands an impressive role in the production of "The King and I," she's thrilled . . . until she starts to hear grumbles from her mostly white classmates that she only got the part because it's an Asian play with Asian characters. Is this all people see when they see her? Is this the only kind of success they'll let her have—one that they can tear down or use race to belittle? Disheartened but determined, Annie channels her hurt into a new dream: showing everyone what she's made of. Waka T. Brown, author of While I Was Away, delivers an uplifting coming-of-age story about a Japanese American girl's fight to make space for herself in a world that claims to celebrate everyone's differences but doesn't always follow through.
Order Your Copy of Dream, Annie, Dream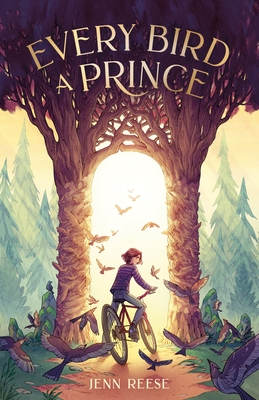 Every Bird a Prince by Jenn Reese
Signed and personalized copies available!
A girl's quest to save a forest kingdom is intertwined with her exploration of identity in this gorgeous middle-grade contemporary fantasy by the author of A Game of Fox & Squirrels. The only time Eren Evers feels like herself is when she's on her bike, racing through the deep woods. While so much of her life at home and at school is flying out of control, the muddy trails and the sting of wind in her face are familiar comforts. Until she rescues a strange, magical bird, who reveals a shocking secret: their forest kingdom is under attack by an ancient foe—the vile Frostfangs—and the birds need Eren's help to survive. Seventh grade is hard enough without adding "bird champion" to her list of after-school activities. Lately, Eren's friends seem obsessed with their crushes and the upcoming dance, while Eren can't figure out what a crush should even feel like. Still, if she doesn't play along, they may leave her behind…or just leave her all together. Then the birds enlist one of Eren's classmates, forcing her separate lives to collide. When her own mother starts behaving oddly, Eren realizes that the Frostfangs—with their insidious whispers—are now hunting outside the woods. In order to save her mom, defend an entire kingdom, and keep the friendships she holds dearest, Eren will need to do something utterly terrifying: be brave enough to embrace her innermost truths, no matter the cost.
Order Your Copy of Every Bird a Prince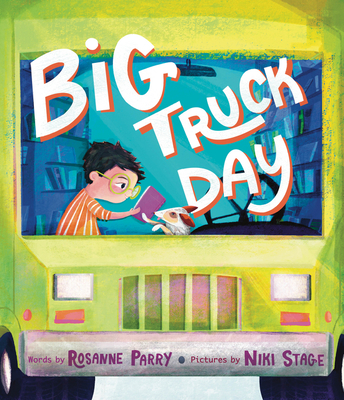 Big Truck Day by Rosanne Parry, Niki Stage
Signed and personalized copies available!
Celebrate trucks, reading, sharing, and community with award-winning and New York Times–bestselling author Rosanne Parry and debut illustrator Niki Stage. Big Truck Day is a wonderful choice for readers who love vehicles of all kinds and for fans of Goodnight, Goodnight Construction Site and Little Blue Truck. Told in a lively rhyming text, two parallel stories follow children and drivers motoring to the library for a very special event: a book drive! Join friends and neighbors of all ages as they salute big trucks, great books, and community helpers . . . and stay for the reveal of the new library bookmobile made possible by book donations from the community. Hooray! Big Truck Day is a celebration of libraries, books, communities, and things that go.
Order Your Copy of Big Truck Day
— posted by Tegan Tigani