July 28, 2020
Baseball season is finally here! Check out these new books on America's pastime.
Bouton: The Life of a Baseball Original by Mitchell Nathanson
From the day he first stepped into the Yankee clubhouse, Jim Bouton (1939–2019) was the sports world's deceptive revolutionary. Underneath the crew cut and behind the all-American boy-next-door good looks lurked a maverick with a signature style. Whether it was his frank talk about player salaries and mistreatment by management, his passionate advocacy of progressive politics, or his efforts to convince the United States to boycott the 1968 Olympics, Bouton confronted the conservative sports world and compelled it to catch up with a rapidly changing American society. In Bouton: The Life of a Baseball Original, Mitchell Nathanson gives readers a look at Bouton's remarkable life. Nathanson provides insight as to why Bouton saw the world the way he did, why he was so different than the thousands of players who came before him, and how, in the cliquey, cold, bottom‑line world of professional baseball, Bouton managed to be both an insider and an outsider all at once. Purchase Your Copy Here!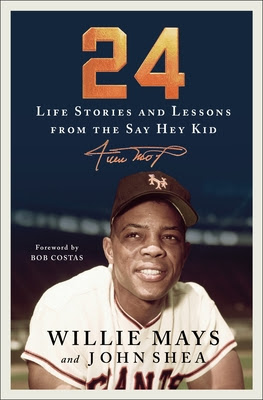 24: Life Stories and Lessons from the Say Hey Kid by Willie Mays and John Shea
The legendary Willie Mays shares the inspirations and influences responsible for guiding him on and off the field in this reflective and inspirational memoir. Widely regarded as the greatest all-around player in baseball history because of his unparalleled hitting, defense and baserunning, the beloved Willie Mays offers people of all ages his lifetime of experience meeting challenges with positivity, integrity and triumph. Presented in 24 chapters to correspond with his universally recognized uniform number, Willie's memoir provides more than the story of his role in America's pastime. This is the story of a man who values family and community, engages in charitable causes especially involving children and follows a philosophy that encourages hope, hard work and the fulfillment of dreams. "It's because of giants like Willie that someone like me could even think about running for President." (President Barack Obama) Purchase Your Copy Here!
The Inside Game by Keith Law
In this groundbreaking book, Keith Law, baseball writer for The Athletic and author of the acclaimed Smart Baseball, offers an era-spanning dissection of some of the best and worst decisions in modern baseball, explaining what motivated them, what can be learned from them, and how their legacy has shaped the game. Combining behavioral science and interviews with executives, managers, and players, Keith Law analyzes baseball's biggest decision making successes and failures, looking at how gambles and calculated risks of all sizes and scales have shaped the sport, and how the game's ongoing data revolution is rewriting decades of accepted decision making. In the process, he explores questions that have long been debated, from whether throwing harder really increases a player's risk of serious injury to whether teams actually "overvalue" trade prospects. Bringing his analytical and combative style to some of baseball's longest running debates, Law deepens our knowledge of the sport in this entertaining work that is both fun and deeply informative. Purchase Your Copy Here!
Yogi: A Life Behind the Mask by Jon Pessah
Lawrence "Yogi" Berra was never supposed to become a major league ballplayer. That's what his immigrant father told him. That's what Branch Rickey told him, too––right to Berra's face, in fact. Yet baseball was his lifeblood. Berra couldn't allow a constant stream of ridicule about his appearance, taunts about his speech, and scorn about his perceived lack of intelligence to keep him from becoming one of the best to ever play the game. Drawing on more than one hundred interviews and four years of reporting, Jon Pessah delivers a transformational portrait of how Berra handled his hard-earned success––on and off the playing field––as well as his failures; how the man who insisted "I really didn't say everything I said!" nonetheless shaped decades of America's culture; and how Berra's humility and grace redefined what it truly means to be a star. Overshadowed on the field by Joe DiMaggio early in his career and later by a youthful Mickey Mantle, Berra emerges as not only the best loved Yankee but one of the most appealingly simple, innately complex, and universally admired men in all of America. Purchase Your Copy Here!
The Cactus League: A Novel by Emily Nemens
Jason Goodyear is the star outfielder for the Los Angeles Lions, stationed with the rest of his team in the punishingly hot Arizona desert for their annual spring training. Handsome, famous, and talented, Goodyear is nonetheless coming apart at the seams. And the coaches, writers, wives, girlfriends, petty criminals, and diehard fans following his every move are eager to find out why—as they hide secrets of their own. Humming with the energy of a ballpark before the first pitch, The Cactus League unravels the tightly connected web of people behind a seemingly linear game. Narrated by a sportscaster, Goodyear's story is interspersed with tales of Michael Taylor, a batting coach trying to stay relevant; Tamara Rowland, a resourceful spring-training paramour, looking for one last catch; Herb Allison, a legendary sports agent grappling with his decline; and a plethora of other richly drawn characters, all striving to be seen as the season approaches. It's a journey that, like the Arizona desert, brims with both possibility and destruction. Anchored by an expert knowledge of baseball's inner workings, The Cactus League is a propulsive and deeply human debut that captures a strange desert world that is both exciting and unforgiving, where the most crucial games are the ones played off the field. Purchase Your Copy Here!
Browse more Baseball Books from Annie Bloom Books in Portland– or ask your local, independent bookseller for recommendations. 
— posted by Tegan Tigani